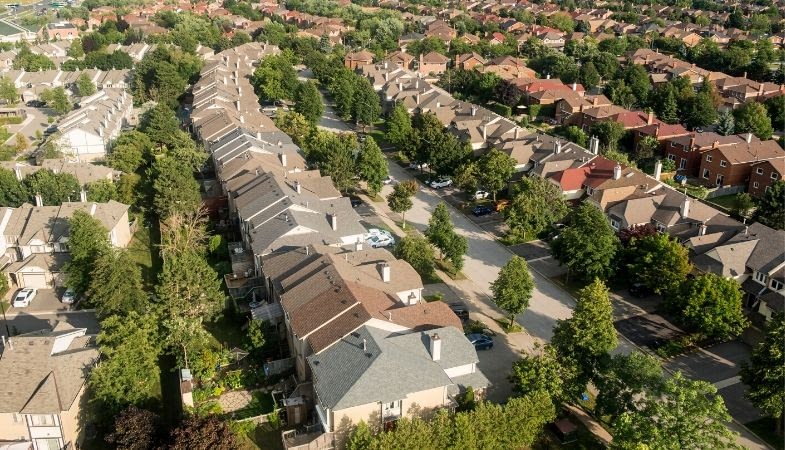 Homeowners in the Ontario real estate market have witnessed incredible gains over the last 20 months. After a modest slowdown in the first two months of the global health crisis, many aspects of the Ontario housing sector – particularly detached and semi-detached homes – soared and recorded record highs, from sales activity to price growth. But but has an adjustment phase commenced?The Ontario housing industry is bracing for a slowdown amid an environment of tight inventory, sky-high prices, and changes to the mortgage stress test. How much it will cool down remains to be seen, but the consensus is that homeowners who are keen to hammer a "for sale" sign on the lawns of their residential properties might want to lock in their profits now.The latest trend in the province's red-hot real estate sector has been sellers turning down sweetened offers, anticipating even better bids for their two-bedroom, two-bathroom bungalow just outside of downtown Toronto. Real estate agents, who have witnessed too many of these instances, now suggest taking the money and running as the housing market shifts into a new normal.
Ontario Real Estate Market Shifts into Adjustment Phase
The
National Post
recently published an article titled "The great real estate cool-down has come." It included examples of homeowners who regretted their decision to turn down offers in hopes of more lucrative bids.For instance, a Hamilton seller received an offer that was $100,000 over the asking price. Instead of accepting the money, they rejected the six-figure addition. Rob Golfi of RE/MAX Escarpment Golfi Realty Inc. suggests this is evidence of "
how inflated expectations in still-hot-but-cooling Canadian markets such as the GTA are causing home sellers to miss out on otherwise profitable exchanges.
" At the time of writing, the home was still unsold."Many [sellers] are realizing weeks later that they botched a great offer and regret becoming overly confident and unsatisfied with the offers they declined," he noted. "
It's difficult for sellers to understand that we are now in an adjustment phase
."Does this mean the Ontario real estate market, as well as the broader Canadian housing sector, will experience a substantial correction or collapse? Not quite. Nationally, the average home is selling for more than $679,000. In the country's most populous province, the average price is north of $800,000.But while sky-high prices might be the new standard, some real estate experts think the monumental price growth has reached a peak, meaning that the frenzy has subsided. Shaun Cathcart, the senior economist at the Canadian Real Estate Association (CREA),
avers
this past summer has been the season of "slowly getting back to normal."Moving forward, there are many factors at play that could prevent another flurry of sales activity and double-digit valuation spikes.
Why is Ontario's Real Estate Market Even Adjusting Anyway?
Be it in Toronto or Northern Ontario, can the typical household in the province afford to purchase residential property? In Toronto – the financial capital of Canada, for example – it would take many years to save for a down payment, with some
estimates
predicting as high as 25 years. This is a critical barrier to entry for homebuyers.Housing supply continues to tumble, leaving a limited number of options for those who want to dip their toes in the real estate market. With inventories as low as they are, it becomes incredibly competitive for the vast buyer pool. However, whether it is frustration over the intense bidding wars or the sticker shock for a starter home, many people have been sitting on the sidelines and waiting for relief to come. Indeed, the sales activity that was ubiquitous in the immediate aftermath of the COVD-19 public health crisis has diminished. Although prices appear to have stagnated, homebuyers are waiting for more respite.This past summer, the federal government
increased the threshold for the mortgage stress test
. The new stress test rate was raised to 5.25 per cent, decreasing a family's affordability to $618,000. It is an important rule because the stress test means you have to qualify for your mortgage at the minimum qualifying rate, forcing buyers to lower their budgets, or save up a higher down payment.Next year, the Bank of Canada (BoC) could
pull the trigger on an interest rate hike
, raising the cost of borrowing, impacting everything from mortgages to car loans. This would further weigh on the finances of households looking to achieve the dream of home ownership.It is unclear if there will be enough supply coming online to meet demand and reduce housing prices across the country. According to
Canada Mortgage and Housing Corporation (CMHC)
, housing starts eased in August 2021 compared to the same time a year ago, totalling 8,959 versus 10,118. However, year-to-date, housing starts have soared to nearly 61,000, up from 51,284 in the first eight months of 2020.
Canadian Real Estate is at a Critical Juncture
Most Canadians concur that there is a
housing affordability crisis
nationwide. Despite the myriad of proposals laid out during the federal election campaign, industry leaders agree that
the best solution is more supply
, which could be achieved through streamlining the application process, cutting red tape, and incentivizing more development. Until this is accomplished, it will continue to be challenging for many young buyers to follow in the footsteps of their generational predecessors and achieve the Canadian Dream.Sources: