Seller's market expected for Barrie in 2021, prices expected to rise 4%
The
 Barrie housing market
 is in store for another seller's market in 2021, thanks to continuing challenges in housing supply, growing demand and rising prices. Low inventory has been a common trend across many Ontario housing markets, putting upward pressure on prices.Indeed, single-detached homes in Barrie saw prices 
rise to an average $596,960
 in 2020 (Jan. 1-Oct. 31) compared to $539,890 in 2019 (Jan. 1-Dec. 31). During the same period, the average price of condominium properties in the region 
increased to $399,408
. Low supply and rising prices are expected to be a continuing factor in 2021 market activity. Thus, the RE/MAX outlook for Barrie real estate is an 
increase of 4% in average price
to $569,525
 across all property types, with sales also expected to see an increase of 5% over 2020 levels.Housing inventory is very tight in Barrie, currently sitting at one to two months. This shortage that prompted a seller's market in 2020 is likely to continue in 2021. While more housing supply is expected to come on stream, demand will far outweigh any boost in inventory. Days on market should remain on par with 2020 levels.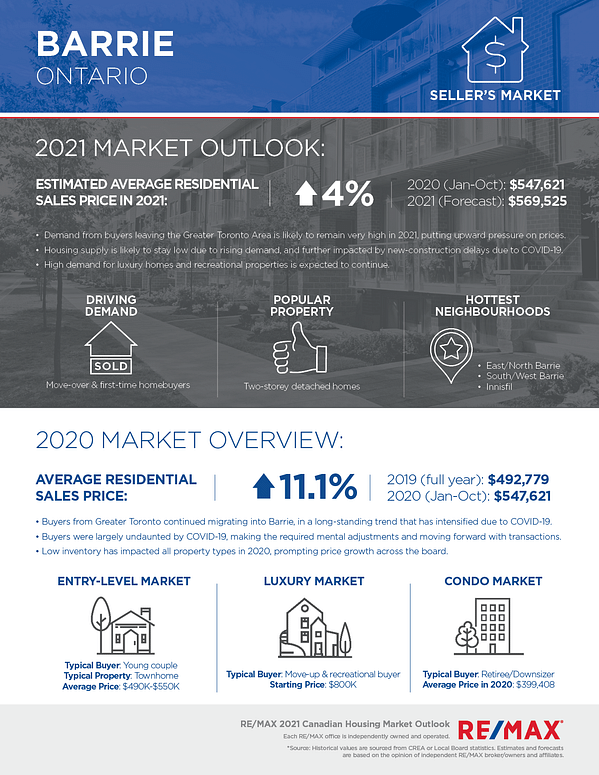 Who's driving demand for Barrie real estate?
Demand from homebuyers leaving the Greater Toronto Area is expected to remain very high in 2021, putting pressure on housing supply and prompting continued price growth in the region. Move-over buyers have been a longer-term trend in the Barrie area, however COVID-19 has intensified this activity in 2020, with many buyers seeking more space further away from densely populated urban areas. With Barrie being only 45 minutes north of the GTA and offering homes at half the price, Barrie continues to be a hot move-over market.Buyers from the pricey GTA continue to flock to Barrie, which is only 45 minutes north of the GTA and offers homes at half the price.First-time homebuyers are typically young couples, seeking townhomes in the $490,000-$550,000 price range. Low interest rates will keep them in the game along with regional affordability, unless prices rise more than 10 per cent. Multiple offers have been a common occurrence in 2020, which has been a lesson for many first-timers who have had to adjust their offer strategy due to competing offers. This has also been the case for move-up homebuyers in the area, typically families who have faced the same challenges around multiple offers and a shortage of listings. These conditions are expected to continue in 2021 as well.Barrie's condo market is experiencing similar conditions to its low-rise counterpart, characterized by tight inventory, high demand and rising prices. Condo sales caught up to 2019 levels by the end of October 2020, with continued pressure expected in 2021. Agents with condo listings initially had to rebuild their showing protocols to ensure COVID safety, due to condominiums' contained environments, however agents and clients alike have made all adjustments necessary to be safe and have been transacting without issue.Luxury real estate in Barrie is being predominantly driven by move-up and recreational home buyers, with an average starting of $800,000. Demand for high-end homes has increased in the Barrie market, which is expected to be a longer-term trend.
Barrie new-home construction
Although many new starts are planned and developed land has started to come on line new-home builds in Barrie have slowed for a number of reasons. Municipal approvals and subdivision plans/permits have experienced delays, due to the COVID-19 shut-down and low staffing levels. Furthermore, building supplies are scarce and more expensive. Finally, builders were challenged in finding trades due to CERB availability or lack of childcare. However, small renovations and non-custom home improvements have been absolutely booming, along with cottage improvements and winterizations. However, this sector is also impacted by limited choice of materials available, and pools, boats, RV's all being sold out.
Canadian Housing Market in 2021
Canadians are on the move. RE/MAX isn't calling this an "exodus," but the re-location trend across the Canadian housing market is real, and it's just one focus of the RE/MAX 
2021 Housing Market Outlook Report
. RE/MAX Canada anticipates healthy housing price growth at the national level, with move-up and move-over buyers continuing to drive activity in many regions across the Canadian housing market. An ongoing and widespread housing supply shortage is likely to continue, presenting challenges for homebuyers and putting upward pressure on prices.Due to these factors, the 2021 RE/MAX 2021 outlook for average residential prices is an estimate of +4% to +6% nation-wide.