Collingwood housing market to favour sellers in 2021, prices expected to rise 8%
The
 Collingwood housing market 
was a strong seller's market in 2020 – conditions that are expected to continue into 2021 as low inventory and rising prices continue to challenge homebuyers in the area. The housing supply shortage is a factor that's been playing out across many Ontario housing markets, resulting in widespread rising prices. Indeed, Collingwood saw the average price of single-detached homes 
rise to $773,813
 in 2020 (Jan. 1 – Oct. 31) compared to 2019's average price of $607,831 (Jan. 1 – Dec. 31). Meanwhile, average condo prices also 
increased
to $506,763 
in 2020, up from $459,276 in 2019. The unusually hot 2020 condo market saw sales surpass 2019 levels by 43% by the end of October. RE/MAX expects this seller's market to persist in 2021, with an 
8% increase in average price across all property types, to 
$
694,919,
 and sales expected to rise by
 10%.
Collingwood currently has 2.6 months of inventory, with similar levels expected through most of 2021. Days on market are also expected to hold steady, with multiple offers on most listings expected to continue, as inventory levels lag. These conditions should carry through into 2021 and for the foreseeable future.
We've seen a lot of anecdotal evidence since the summer that households are considering significant lifestyle changes by relocating to less-dense cities and neighbourhoods," says Christopher Alexander, Executive Vice President and Regional Director, RE/MAX of Ontario-Atlantic Canada. "This has sparked unprecedented sales this year in suburban and rural parts of Canada and we expect this trend to continue in 2021."Despite the disruption of the virus, consumers are feeling optimistic, according to a Leger survey conducted on behalf of RE/MAX Canada, with 52 per cent of Canadians eyeing real estate as one of the best investment options in 2021, and expressing confidence that the Canadian housing market will remain steady next year.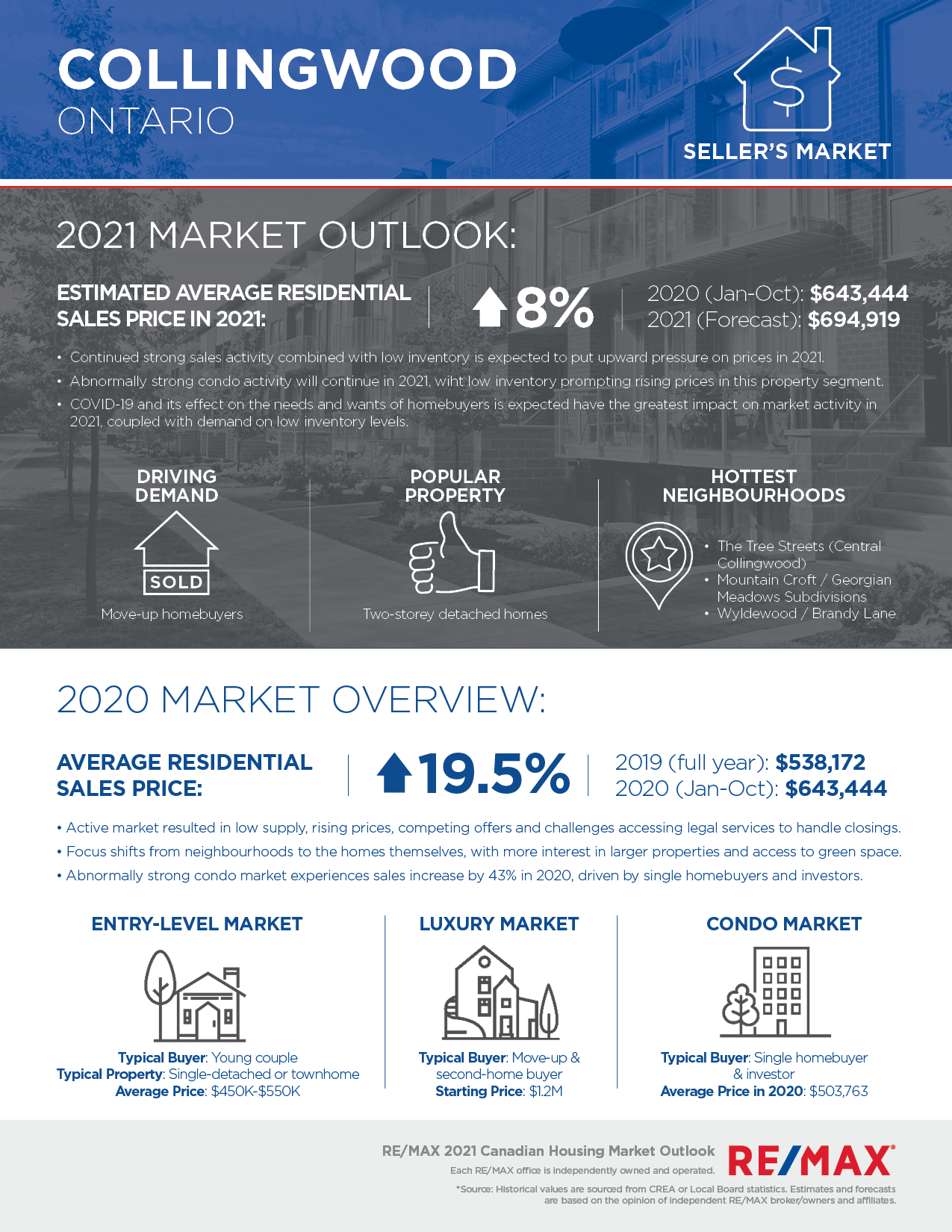 The impacts of COVID-19 on the Canadian housing market
While many economists predicted employment disruptions would negatively impact the Canadian housing market, the pandemic directly influenced only six per cent of Canadians to sell their home, according to the survey. Furthermore, 40 per cent of Canadians realized that their home needed renovations during the pandemic, and 29 per cent discovered that they need more space.When it comes to where Canadians would prefer to live – urban, suburban or rural – they are evenly split, with roughly three in 10 preferring to live in each area. In fact, many suburban markets across the country have been heavily impacted by out-of-town buyers, a segment that is expected to drive market activity in 2021. This was a trend that was evident in many regions across the country, including North Bay, Kingston, Moncton and Greater Vancouver, among others.Unsurprisingly, younger Canadians (under age 35) are significantly more likely to have realized that they need more space and are motivated to move out of their current neighbourhood."Despite the tragic impacts of the pandemic, our optimism in the strength of Canada's housing market has always remained," says Elton Ash, Regional Executive Vice President, RE/MAX of Western Canada. "While we've seen a significant shift in buyer preferences this year, we believe factors such as the supply issue, pent-up demand and historically lower interest rates will continue to fuel activity in 2021."