Cancelled due to Covid 19
Every Friday Night at the RecPlex in Wasaga Beach presented by the Wasaga Beach Lions Club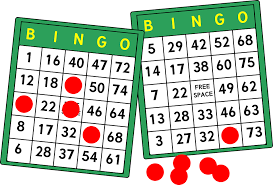 Jackpot prizes - Attendance 155 and over - $5,000 - Under 155 - $4,500. Under 140 - No Consolation prize.
1724 Mosley Street
Wasaga Beach, Ontario
Located on Mosley Street at 42nd Street S.
5:30  P.M.      - Doors open
6:00 P.M.       - 1st 50 Bonanza numbers
6:45 P.M.        - Game Starts
Come and join for a fun filled night.
All players must be 18 years of age or older.
Only photo I.D. is acceptable, if requested.
Minimum purchase of 2-strip regular book is required to play all other games.
The responsibility is on the player to yell "BINGO" loud enough for the caller to hear.
We reserve the right to refuse admission.
Minimum payout will be $5.00
No cards will be sold to newcomers after the first REGULAR game is started.
No sharing of cards will be allowed.
The last number called does not necessarily have to appear on the winning card.
The Club does not recognize reserve seating.
All final decisions regarding the Bingo event rest with the Club.
The number appearing on the monitor has to be called by the caller before it is valid.
All paper bingo cards must be marked with an ink marker to be valid.
"BINGO" must be called before the caller announces "Game Closed".
Duplicate card numbers may occasionally occur.
The Wasaga Beach Lions Club hopes you enjoy your time with us and greatly appreciates your support for the community.